Welcome
Castlereagh Nursery School is set in mature grounds just off the Dual Carriage Way (Upper Knockbreda Road) between the Cregagh and Castlereagh Roads on the south – eastern outskirts of Belfast.
It is a purpose built Nursery School with excellent facilities. We have 2 nursery classrooms, a sunroom and an extensive outdoor garden. The school has places for 52 pre-school children on a full-time basis (9:00am to 1:30pm) and is staffed by a Teaching Principal, an Assistant Teacher and 2 trained Nursery Assistants.
Our school has a warm, friendly and caring atmosphere in which the children can feel happy and secure as they learn through their play. Children are encouraged to help themselves, take initiative and become increasingly independent in problem solving in order to develop self-esteem, communication and social skills. The nursery environment is planned to encourage curiosity, experimentation and creativity.
Outdoors there is a large climbing/balancing frame on safety surface which allows for physical play regardless of the weather. There is another safety surfaced area providing a range of climbing and balancing activities, a large paved area for bicycles, and an outdoor sand pit as well as a wooden house for imaginative play.
There is also a sensory garden and planting area where the children are encouraged to develop an awareness of their environment. We plant and grow a number of vegetables and fruit each year.
We work very closely with our families and local community to ensure each child has the best start to their journey in education and their joy of learning. Our school motto is 'hand in hand we learn together'.
Thank you for taking the time to visit Castlereagh Nursery School website. We hope you find all the information you are looking for. If you have questions about any aspect of our school please contact us either by phone or email, we will be happy to help you. If you would like to have a look around our nursery you will be very welcome. We hope you find this information useful.
Mrs A Morrow
Principal
Testimonials
Thank you very much for the kind, nurturing, engaging, supportive and truly special year that you have given all the children.
Parent
At the beginning of the school year my child was very timid and hesitant coming to school on her own, but with the help and nurturing from her teachers she quickly overcame this and looked forward to school every day. School has definitely helped her build confidence in 'busier' situations and encouraged her to try new foods at lunch and push herself with her gross motor skills.
Parent
I loved him coming to Castlereagh Nursery School, it has an amazing, homely atmosphere and it doesn't feel like leaving him off to a nursery. It feels like we are leaving him off with people who genuinely care and enjoy teaching and taking time with him
Parent
Virtual tour of Outdoor play in the Garden
Latest Photographs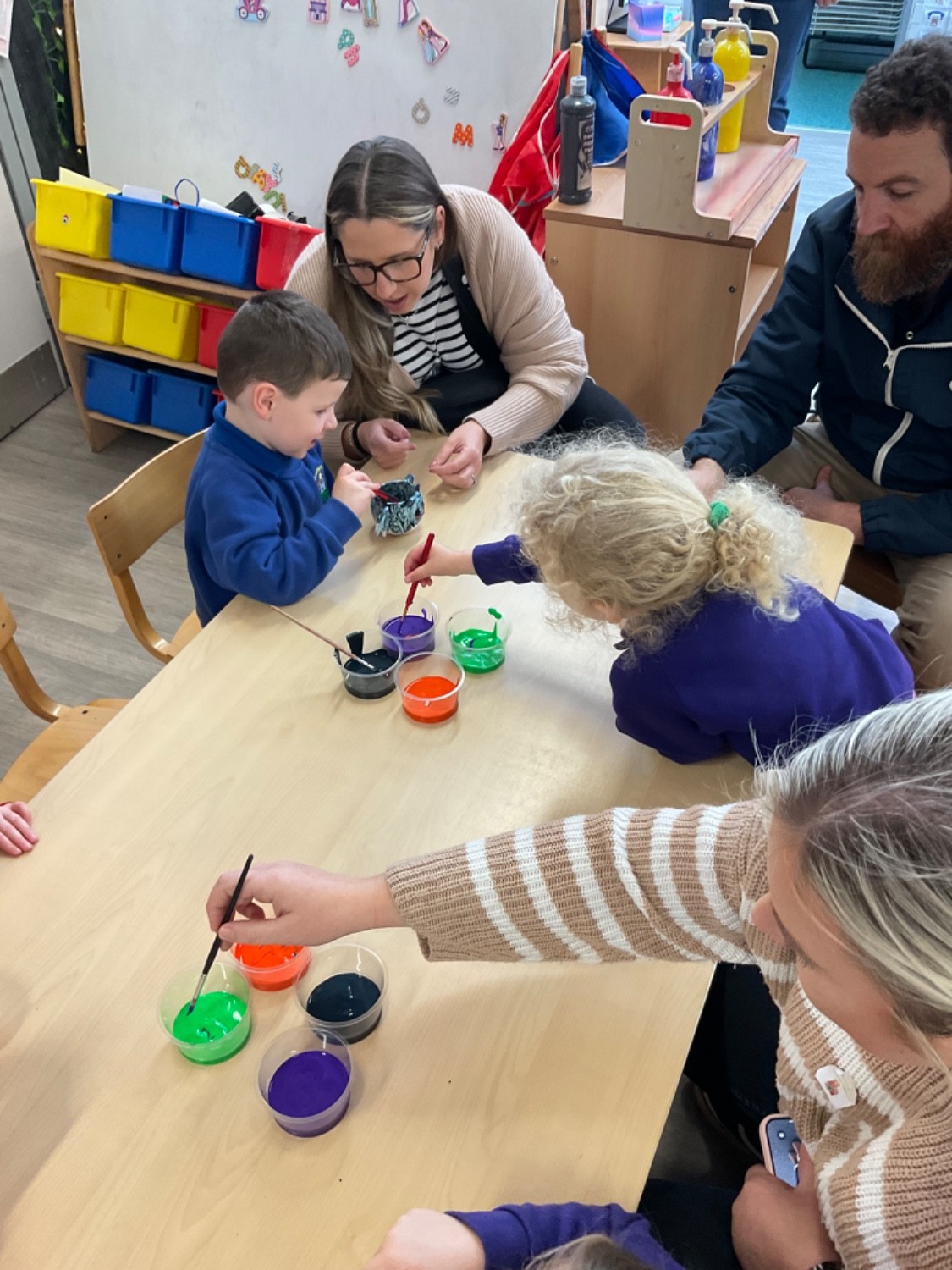 Upcoming Events...
Friday, 1st December 2023
Christmas Jumper Day .£1 voluntary donation for Air Ambulance NI.
Christmas Elf Visit to Nursery.
Monday, 4th December 2023
Please bring something Green
Friday, 8th December 2023
Visit Courtyard Theatre for Jack and the Beanstalk play. Pick up 12.30pm (No dinners)
Monday, 11th December 2023
Please bring something Silver
Castlereagh Nursery School, 135 Clonduff Drive, Belfast BT6 9NT | Phone: 028 9070 4539